25 Maldives Travel Tips You Must Know Before You Plan A Trip In 2022
25 Maldives Travel Tips For Your Holiday
Here is a handy Maldives travel guide that will help you have better experiences without any hassles when you're touring the beautiful nation of Maldives. Take a look at these travel tips to the Maldives islands before you head there. How to plan a trip to the Maldives and a few interesting tips while traveling are explained below which will help you to understand things. Read on and see our Maldives travel tips.
Plan According To The Weather
Choose Your Airplane Rides Wisely
Book Hotels And Flights Online
Follow The Basic Unwritten Rules Of The Land
Choose Affordable Accommodation And Transportation
Go For All-inclusive Or Half-board Facilities
Pack Wisely
Check And Compare Prices For Water Activities
The Bioluminescent Beach Must Not Be Missed
Keep Eyes Open For Tax And Hidden Costs
Don't Carry Alcohol In The Country
Keep USD For Transactions
Don't Forget Your Sunscreen
Bikinis Are Not Allowed Everywhere
Avoid Changing Places Frequently
Spend At Least One Night In A Water Bungalow
Drone Photography? First Check If They're Allowed
Buy Sim Cards At The Airport
From November To April Is The Best Time To Visit Maldives
You Don't Need A Visa While Travelling To Maldives
Seaplanes Are Wonderful There In Maldives
Save Money By Having Brunch
Learn The Local Language
BYOF – Bring Your Own Fins
Should You Tip Or Not?
1. Plan According To The Weather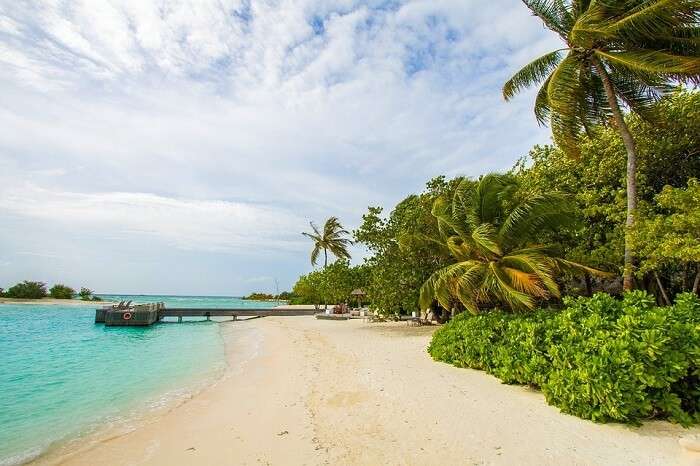 November through April is the peak season of Maldives vacation due to prime weather with endless soft sunshine. Obviously, you will get sky-high prices on everything from accommodation to activities. For a budget Maldives trip plan, traveling during shoulder season, i.e., between the peak season and off-season, will be among the best Maldives travel tips as the weather will be still pleasant and 20% reduced occupancy in resorts will bring you exciting discounts and great services. Tips on the Maldives trip plan mentioned below will help you to understand what is the best season to travel there in the Maldives. Although rain is common during the off-season, it doesn't rain all day. Hence, the period from April to September can be your best bet. Look out for Iruvai – winter monsoon during October and November in Maldives and Halhangu from May to August.
2. Choose Your Airplane Rides Wisely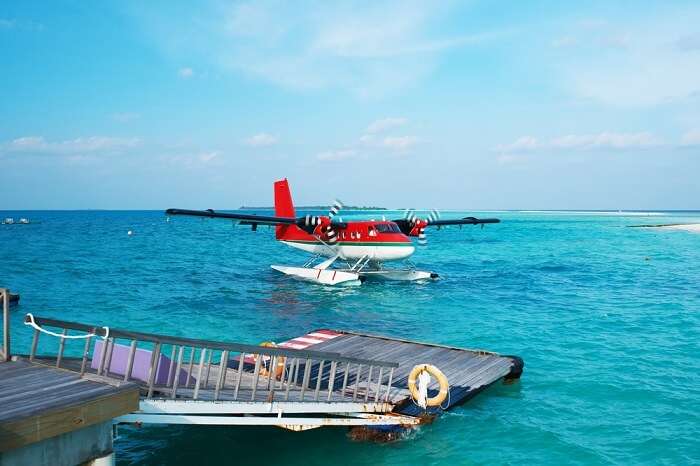 One of the most important tips for first-time visitors to the Maldives is to choose regional or domestic flights from Middle East Asia as these are cheaper options. Choosing a flight to Male and then a speedboat for Maldives transportation between islands to reach the specific islands will be affordable although you can also choose a round trip seaplane ride which will be unforgettable, though expensive. You can also choose the Maldivian domestic flight for the transfer. Flights can get delayed and there is also no scheduled time for seaplane transfer within its dawn-to-dusk window. So try to plan for the flight that lands in the first half of the day to get transferred to the island before 4 PM, otherwise you have to spend the night at Male and take the earliest transfer the following day.
3. Book Hotels And Flights Online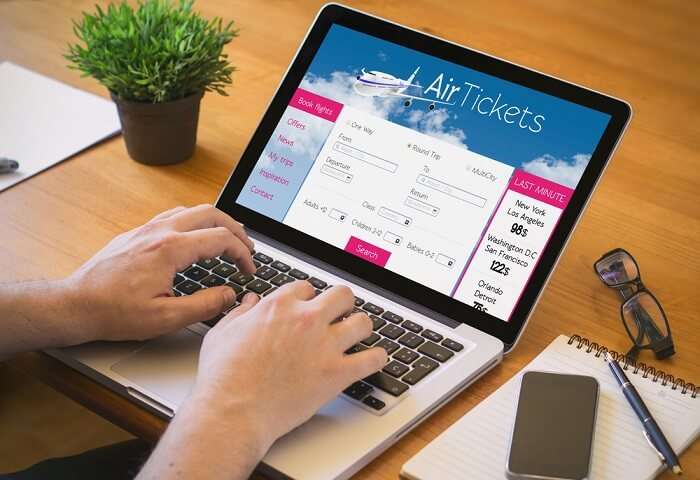 Traveling to Maldives tips and tricks are many and among them, one is to check for available flights online much before the trip to avail cheaper costs. The same goes for hotels or resorts, especially if you are planning the trip on shoulder or peak season, as most people and travel agencies book well in advance. Where to stay in the Maldives, which island is best, are some of the common questions that come to mind. In this case, the Maidou travel will assist to plan for a wonderful trip there and explore the pleasure of staying in the Islands. Compare hotel prices and flight prices and obviously go for the cheapest option, after verifying if it is authentic.
4. Follow The Basic Unwritten Rules Of The Land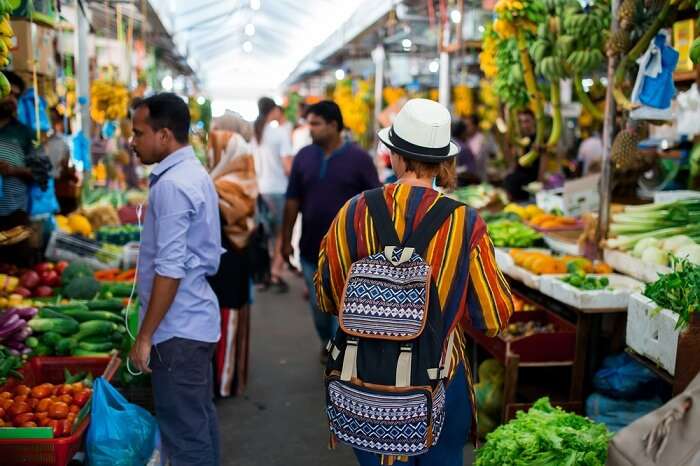 Planning during the 1-month period of Ramadan is a no-no as many hotel staff will be out for meeting families. Also, the availability of food during the daytime will be a challenge and many services and shops will be closed, especially during the time of prayer. Don't expect to get pork and alcohol. Also, one of the most major Maldives travel tips to follow at this time is to ensure you are decently covered, especially knees, shoulders, abdomen, chest, and elbows while visiting the local islands. When you are planning a trip to the Maldives the rules are for the time when one is taking a trip to the local islands but quite relaxed at the resort islands and one can dress the way they want to. There is also a restriction on the public display of affection and homosexuality is taboo as well.
5. Choose Affordable Accommodation & Transportation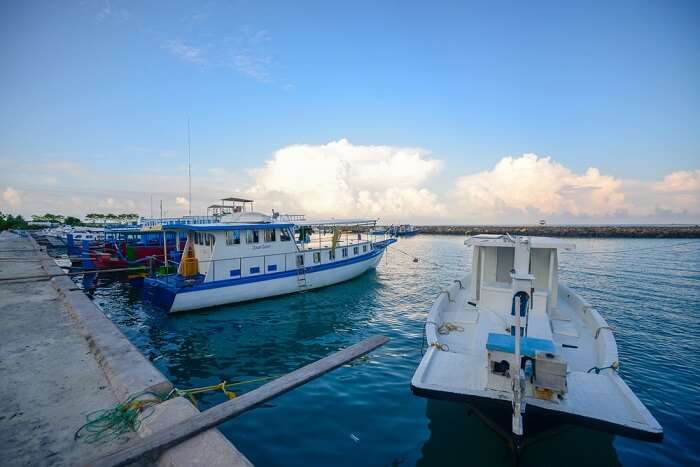 When figuring out how to travel to Maldives, you must have all your options in hand to consider properly. Depending on the average cost of Maldives vacation, you can either go for the less expensive hotels on the local islands or make the best out of the luxury and privacy at the five-star resorts on private islands. Choosing those which offer excursions, airport transfers, and ferry service is a good idea according to tips for the Maldives given by previous travelers. Check out the restaurants, bar, pool, kid-friendliness, reef condition around the island and of course, the view around. For those traveling with kids, choosing overwater villas can be a bad choice as they can be unsafe for them to play or climb on jetties. But living amid the reef fishes, rays and corals can be tantalizing.
6. Go For All-inclusive Or Half-board Facilities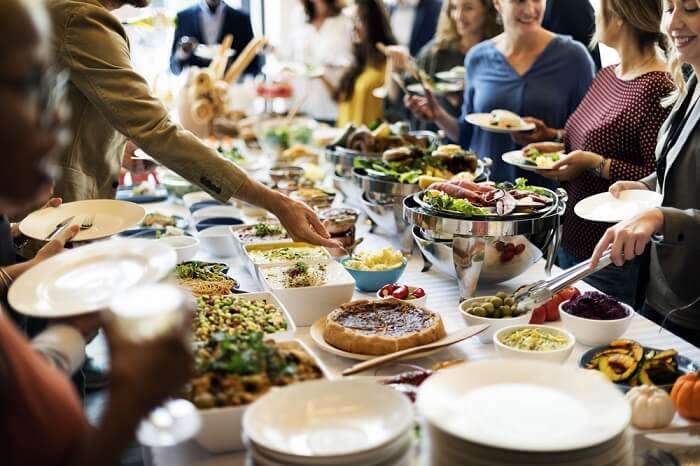 When you are out on the beaches or enjoying water sports in Maldives, going for the all-inclusive deals can be quite expensive. All-inclusive buffet breakfast and lunch can be a great choice while half-boards will include breakfast, lunch, and drinks with access to A-la-carte restaurants according to many Maldives travel tips. Before choosing a deal, make sure there are coffee, drinks, and special delights included, any activities or excursions offered, and whether there is a kid-friendly menu available if you are traveling with kids. Checking these things in advance is only going to make your Maldives trip fun and easier.
7. Pack Wisely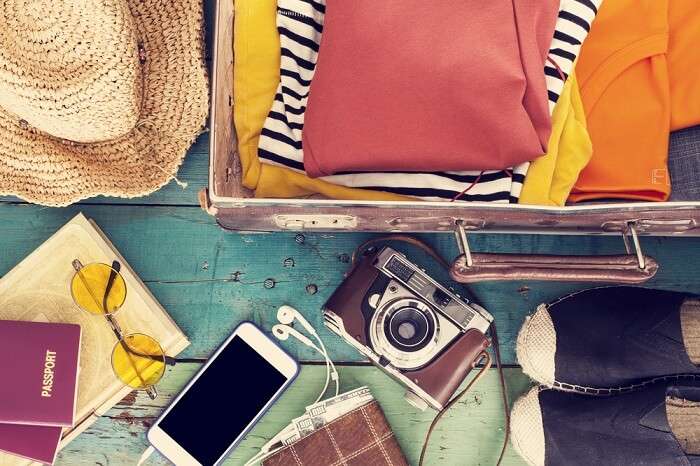 While considering how to go to the Maldives with proper packing, make sure you don't pack pork, alcohol or tobacco products (without health warning) along with any religious books. Coming to one of the most important accessories, do carry a water-resistant or underwater camera with a polarizer to shoot all the action on land and underwater. All Maldives travel tips will tell you to carry snorkeling, surfing, or diving gear to cut down on renting cost and stick to your budget. Carry minimal tropical-friendly clothing, swimsuits (for private islands), sunscreen, toiletries, surf wax, personal care products, and medical emergency kit.
8. Check And Compare Prices For Water Activities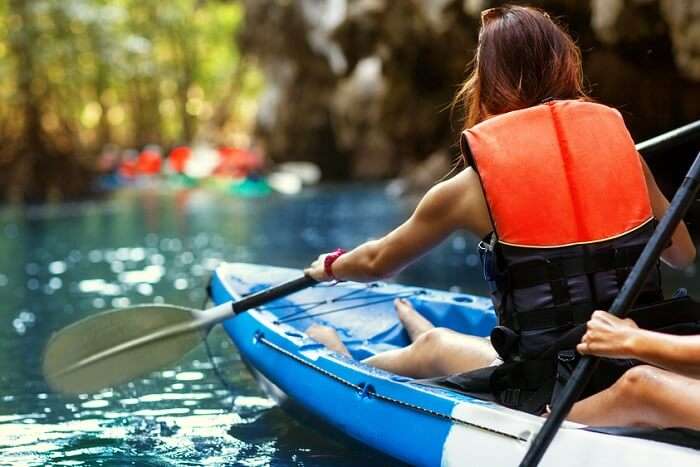 Among the common tips for traveling the Maldives on a budget is to check the distance of the coral reefs from the resort to verify whether you can reach by swimming a little or have to book a ferry from the resort for snorkeling or diving. Sea-kayaking, jet-skiing, parasailing, stand-up paddleboarding, wakeboarding, boating, and the whale, dolphin, or Manta watching trips are offered by resorts and private organizers. Compare their prices before choosing. Manta-rays in North Male Atoll, dolphins and Whale Sharks in South Ari Atoll, and sea-turtles, rays, reef fishes, Reef Sharks, and Hammerhead Sharks in Rasdhoo Atoll should be on your list.
9. The Bioluminescent Beach Must Not Be Missed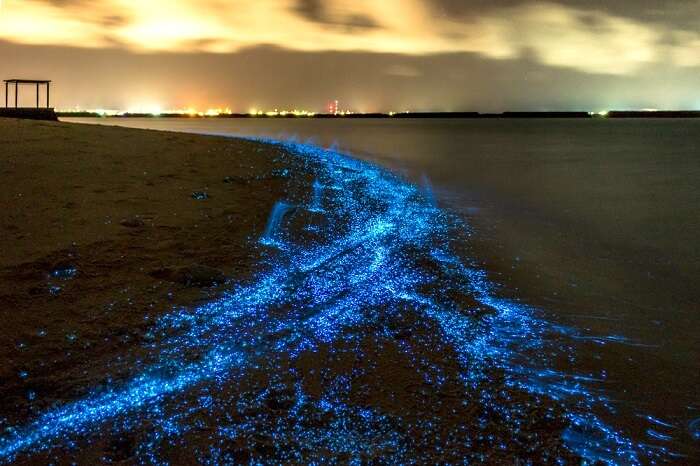 Visiting the Baa Atoll should be among the top 10 travel tips to know before you go as this will be a once-in-a-lifetime experience to see the planktons emitting luminescent toxins during the night under the sky, creating a starry look on the ocean bed. This is one of the most unique things to do in the Maldives. There are many resorts offering bioluminescent tours, but you must verify their authenticity first. Make sure you check the timing of this phenomenon beforehand when you are planning or figuring out how to travel to the Maldives, so you can pick the islands or resorts for your stay accordingly.
10. Keep Eyes Open For Tax And Hidden Costs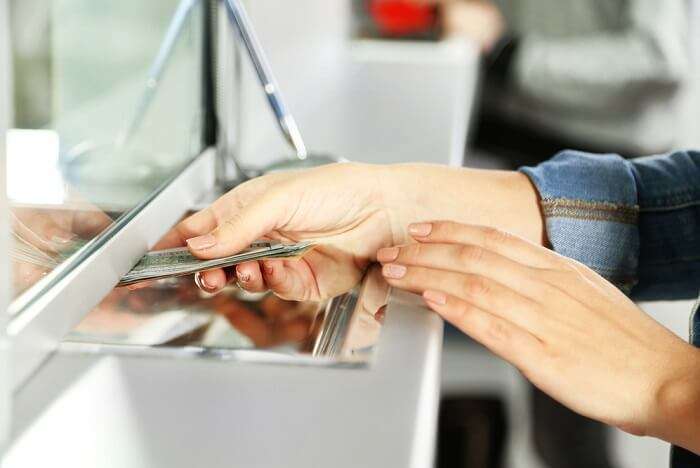 One of the key Maldives travel tips would be to look out for the extra cost for the imported food and drinks at the luxury resorts along with their 10% service cost and 8% service tax (rapidly increasing). Don't miss out on the public price on menus, taxes on equipment rentals, spa sessions, and more. You don't have to pay additional tips but you may offer it as a gesture of appreciation along with a 10% food tax. While traveling in a foreign country, just be careful of these few things, and you are good to go!
11. Don't Carry Alcohol In The Country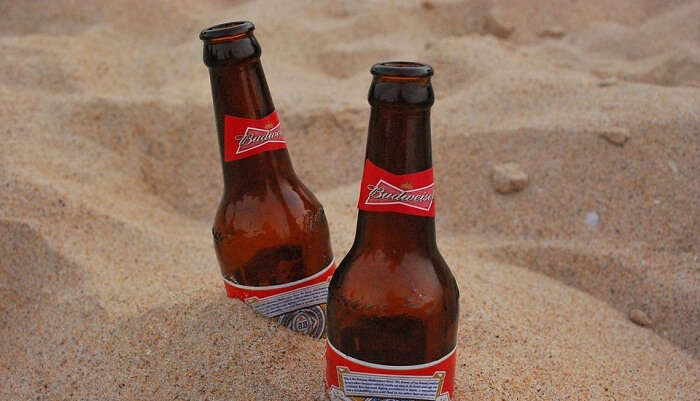 12. Keep USD For Transactions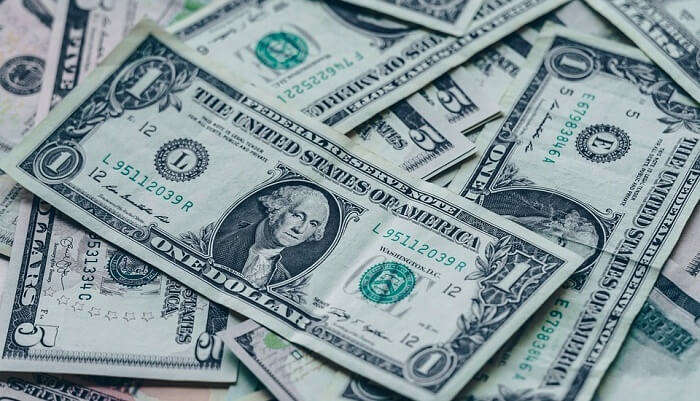 Although Maldivian Rufiyaa is the national currency used in the Maldives, USD is widely accepted almost everywhere. Apart from the local islands, most of the shops have things labeled in USD. Though credit cards are used widely including the resorts, keeping cash is also important as there is a need to purchase odds and ends. And it is also difficult to find an ATM in the vicinity of Maldivian islands, thus it is necessary to kee[p cash.
13. Don't Forget Your Sunscreen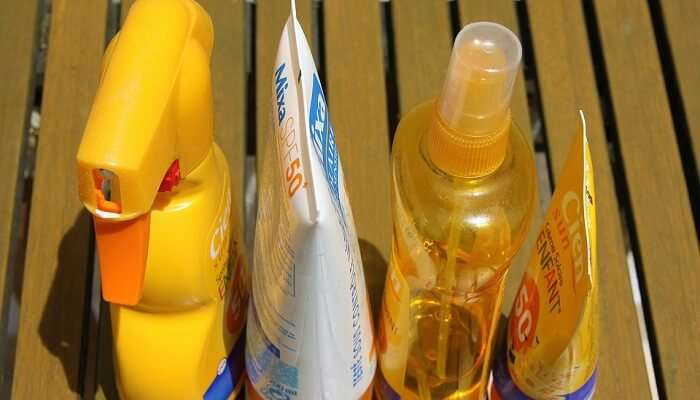 Being a tropical location, it is necessary for travelers to bring sunscreen with them to protect the skin from being damaged. But make sure to not plan on buying the sunscreen from the Maldives, as it is very expensive on the island. And alongside that also ensure that you try to use reef-safe sunscreen as the chemicals in other sunscreens damages the magnificent and preserved coral and marine life.
14. Bikinis Are Not Allowed Everywhere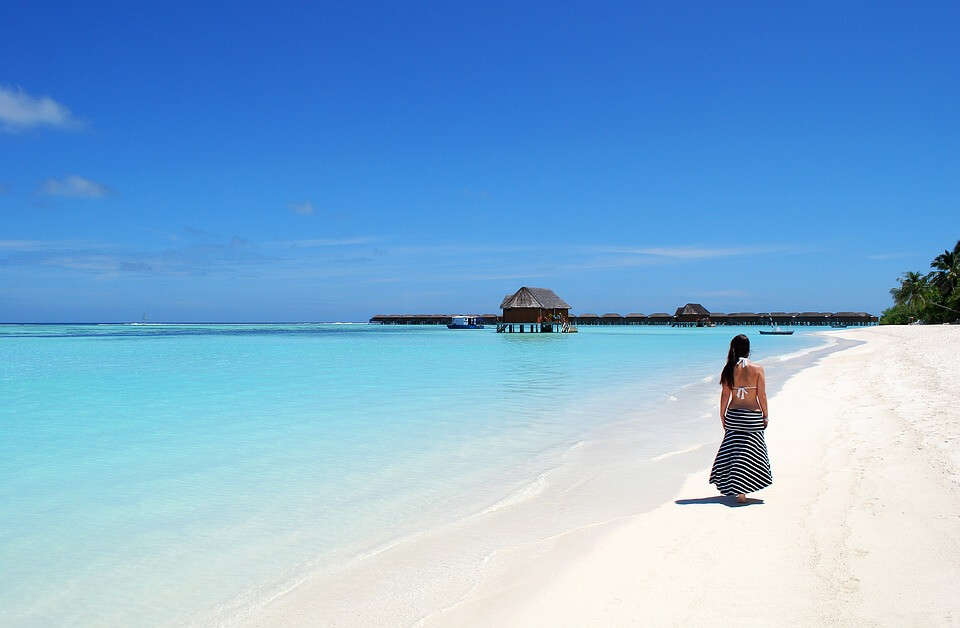 Try not to disregard the conservative culture of the Maldives which is still prevalent in the local islands. Practice modesty and wear bikinis or skin-tight clothing only when at the resort islands. On the local islands, there are some "bikini beaches", which are specially meant for tourists to visit. Amon all the Maldives travel tips .
15. Avoid Changing Places Frequently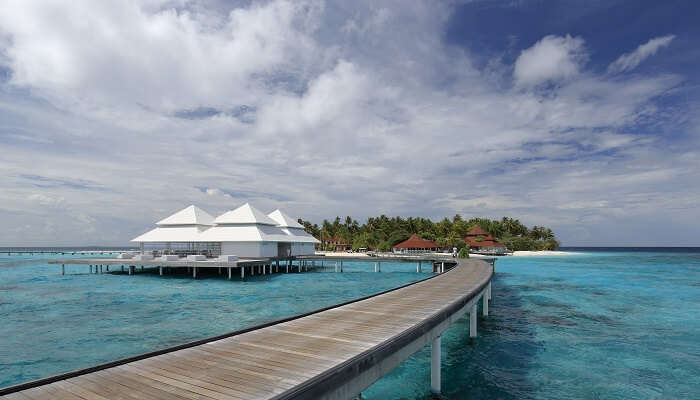 While planning a stay in the Maldives, make sure to pick just one hotel or resort and spend your vacation there rather than doing island hopping. Moving from one place to another in the Maldives is quite hectic and it doesn't seem like a seamless transfer. Apart from Male, one has to hire a speedboat or seaplane to travel from one island to another.
16. Spend At Least One Night In A Water Bungalow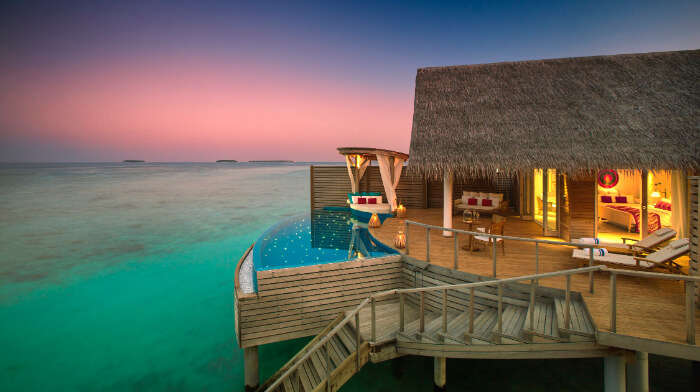 You don't visit such breathtaking tropical destinations with glamorous overwater villas every day. So, when you're in the Maldives, make the most of this opportunity, even if it means spending just a little more. Your Maldives trip plan is incomplete without the experience of the crystal clear turquoise ocean right under your feet, especially if you're on your honeymoon in Maldives. While Maldivian beach villas are also pretty awesome, nothing can beat the experience of staying in a water bungalow where you will wake up to gorgeous sunrises and can slide right into the ocean from your room itself! Therefore, if you are planning to spend few days in those water bungalows and not being able to figure out what to prepare for the Maldives trip, this article will help you to understand the nature of the trip that you can plan for.
17. Drone Photography? First Check If They're Allowed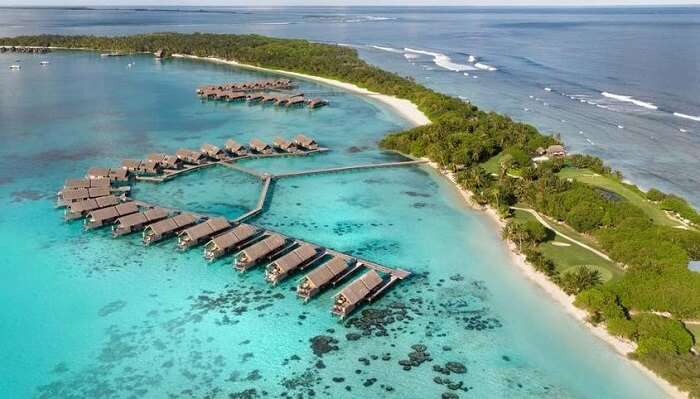 Who wouldn't want to capture that incredible mix of white Maldivian beaches and blue waters from the skies? But if you're planning on bringing a drone to the Maldives, then there are some things you must consider. Many resorts in Maldives have a "No Drone" policy to foster the protection of their guests' privacy and violating these could land you in serious trouble. So the major travel tips for Maldives will always tell you to check with your resort if they would allow you to fly drones on the island that you're staying on.
18. Buy Sim Cards At The Airport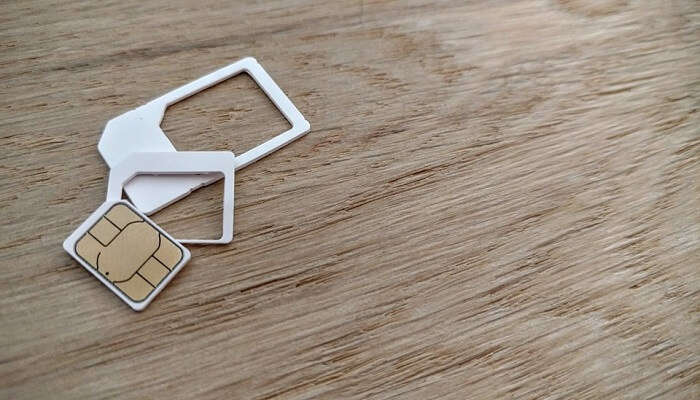 One of the most common tips for a Maldives trip that all bloggers will give you is to buy a sim card (or two) at the airport itself once you land. And that makes sense if you like to keep your Instagram followers about what's going on your trip, since the WiFi service in many resorts in the Maldives is untrustworthy. You'll end up relying on mobile data half the time, and it'll come in handy in case there is an emergency or you're stuck somewhere. So, while you plan a trip to Maldives, make sure you put this down as the first task post landing. This is one of the most important Maldives travel tips that you need to consider.
19. From November To April Is The Best Time To Visit Maldives
When you are planning to visit the Maldives, you must have an understanding of the climate over there so that you can have a memorable trip to the Maldives. Well, the best time to visit different Islands in Maldives. Usually, vacationers love to visit there in the Maldives in the month of December and the rush for visitors continue till the month of March. The Maldives are pretty much with perfect weather with an average temperature of 32 degrees Celcius.
20. You Don't Need A Visa While Travelling To Maldives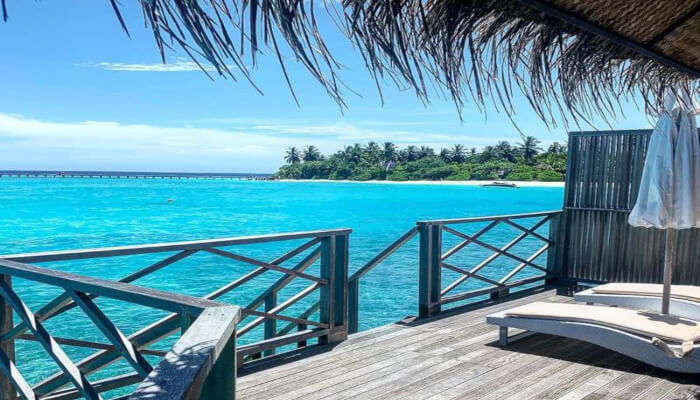 If you want to enter to roam around the Maldives then you don't need any pre-arrival visa. However, visitors of the Maldives will get a thirty-day visa which is issued on the day of arrival in the Country at the airport only. Therefore, arranging visa and its validity are not the things that you need to take into consideration but your passport should have 6 months of validity remaining. This validity is needed to ensure a valid return ticket from the Maldives.
21. Seaplanes Are Wonderful There In Maldives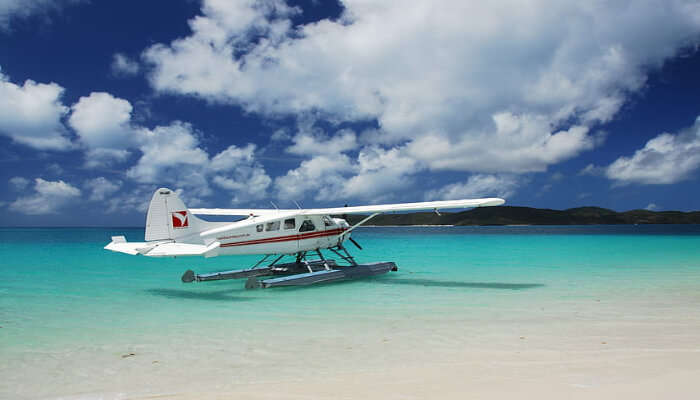 The experience of flying to the Male International Airport is stunning. Tourists, who love to explore some wonderful Islands and places to visit in Maldives, you will have to bear some extra buck if they wish to cherish the journey by seaplane which starts from around US$200 but the views are really eye-pleasing that it is worth spending penny while traveling. Whenever you are booking the hotels there in the Maldives, you need to make sure that you book the seaplanes also in advance as these seaplanes are scheduled and available as per the demand and you will be getting the booking confirmation only just one night before you start your trip to the Maldives.
22. Save Money By Having Brunch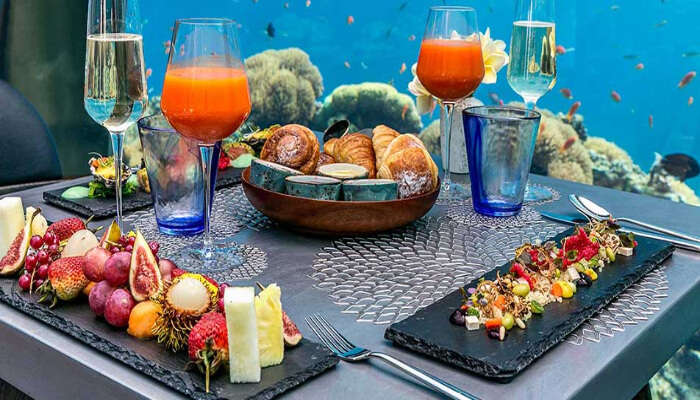 If you are planning a 5 days trip to the Maldives then you must have an idea of the overall cost that will be needed for the trip. Though you have fixed the budget for the trip if you can manage to save some extra bucks while on the trip then that will be a cherry on the cake for you as you can keep the saved money for your next trip. Well, some planning can save your money and make your next trip budget-friendly. You can have a heavy breakfast between 10 am to 11 am and then you won't feel like having lunch in the afternoon.
23. Learn The Local Language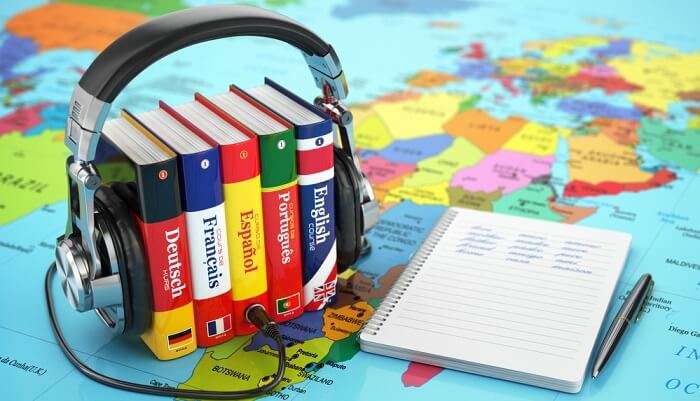 A Maldives travel guide remains incomplete without this point. Whether traveling to Maldives or any other country for a vacation, it is always better to learn the basic words in the official language for a smooth experience. In Mauritius, the official language is Dhivehi so you can learn a few phrases, questions, and words. But, it is not necessary to do so as Mauritius has its tourism game strong which is why you will see most of the people speaking in English, especially at resorts and restaurants. As there is no language barrier, you might not find any problem on your vacation if you do not know the local language. It is totally up to you whether you want to include a translation book in your Maldives tour plan.
24. BYOF – Bring Your Own Fins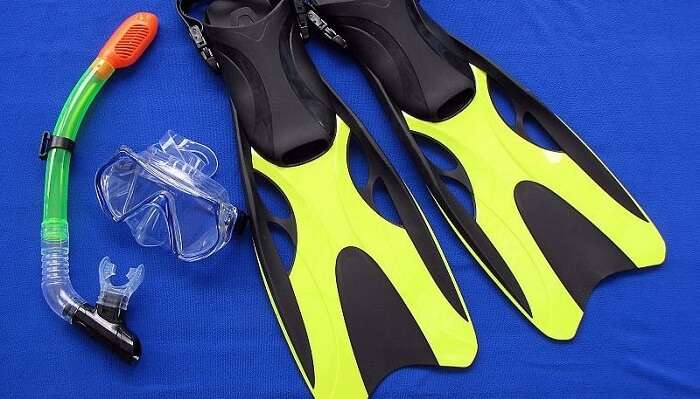 If you are a marine person and are thinking of exploring marine life yourself then it is better to bring your own fins. This is one of the best ways to save a few notes as the resorts and hotels charge you for the equipment on a daily basis. It is better suggested to bring your own equipment and skip all the hassles related to rentals that might get heavy on your pocket. You might not find this travel tip all Maldives guides.
25. Should You Tip Or Not?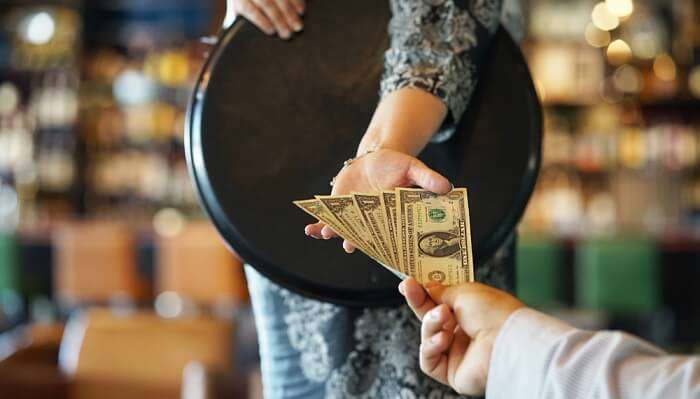 tere is another point that you might want to note while talking about Maldives travel tips. Tipping is not a conventional practice in the Maldives therefore, it is not an obligation to tip in this country. Whether staying at a hotel or eating at a restaurant, you will see that giving tips for the service is not a common practice in the Maldives like it is in many other countries. Having said that, if you still feel that the service provided was commendable and you should praise it then you can provide a tip but you are not obliged to. So, giving a tip totally depends on you and no one else.
With all the above-mentioned Maldives travel tips, it is necessary to carry sufficient US Dollars for its wide acceptability along with MVR or Maldivian Rufiyaa Equals. The local islands are dominated by Islamic culture, be respectful towards it. For the rest, leave it to us to plan your Maldives vacation!
Frequently Asked Questions About Maldives Travel Tips
Do people tip in the Maldives?
Usually in the Maldives, 10% is charged extra as a service tax and above that, it is not necessary to give a tip in the Maldives. If someone wants to still pay a tip, then they can do that generously.
What can you buy in the Maldives?
If you want to go shopping in the Maldives then these are a few items to buy there:
1. Traditional Maldivian mats called Thundu Kunal
2. Sarongs
3. Lacquer work
4. Dhonis
Can you drink alcohol in the Maldives?
Being an Islamic nation, there is a restriction on the consumption of alcohol locally. But the water resorts and liveaboards have a license to sell alcohol. This is one of the essential Maldives travel tips for the people visiting the island for the first time.
Can I use Australian dollars in Maldives?
No. Though the national currency of Maldives is the Maldivian Rufiyaa, USD dollars are accepted across the island except for the local islands. So make sure you have the valid currency with you all the time.
How many days are enough for the Maldives?
5-7 days are good to explore the Maldives and have an amazing time in the luxurious resorts there. You can go for more or fewer days but the ideal trip to the Maldives includes 5-7 days.
Which is the best time to visit Maldives?
November to April is the best time to visit Maldives. The peak season is from December to March so one can plan a trip before or after it to skip crowds.