Beach Pavilion with Pool
(Size: 45m2 (484 sq.ft.))
Maximum 2 Adults Or 2 Adults + 1 Child Or 1 Infant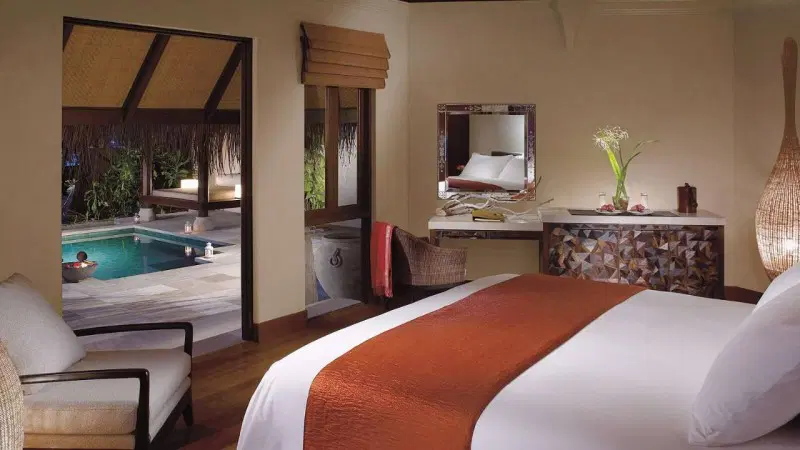 Sunrise Beach Bungalow with Pool
(Size: 63m2 (678 sq.ft.))
Maximum 3 Adults Or 2 Adults And 1 Child ( Below 12 Yes Old )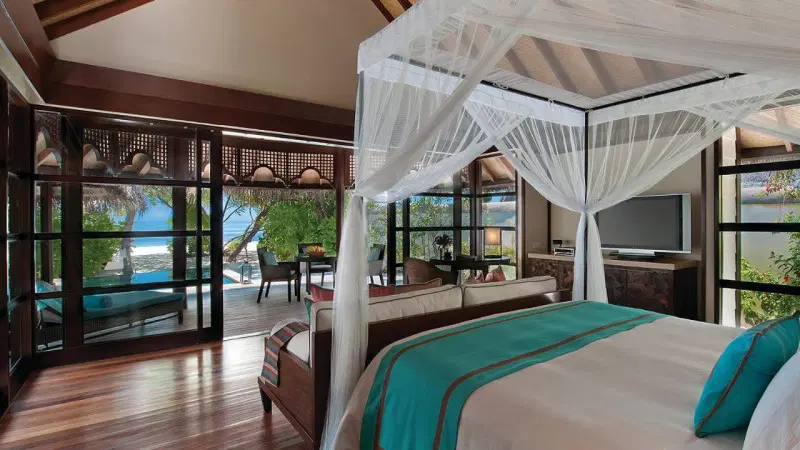 Sunset Beach Bungalow with Pool
(Size: 63m2 (678 sq.ft.))
Maximum 3 Adults Or 2 Adults And 1 Child ( Below 12 Yes Old )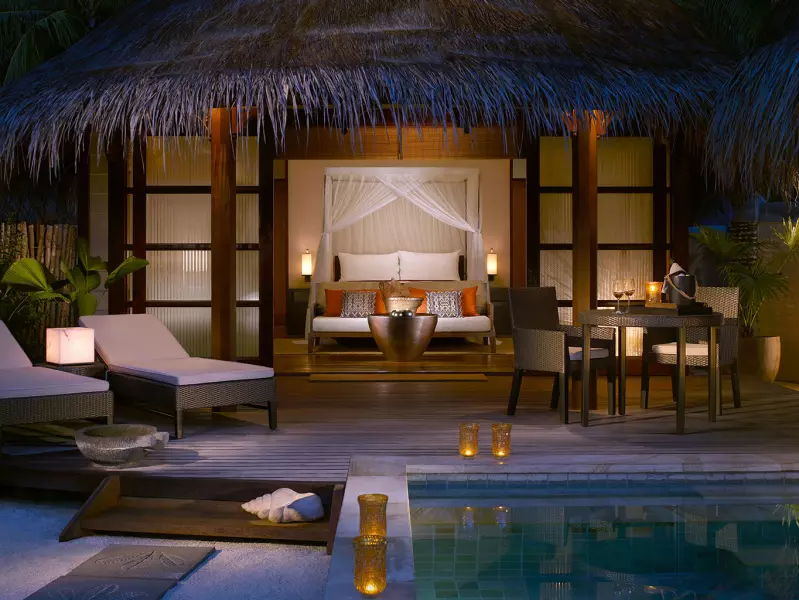 Sunrise / Sunset Water Villa with Pool
(Size: 61m2 (657 sq.ft.))
Maximum 2 Adults And 2 Children ( Below 12 Yrs Old ) Or 3 Adults And 1 Child ( Below 12 Yes Old )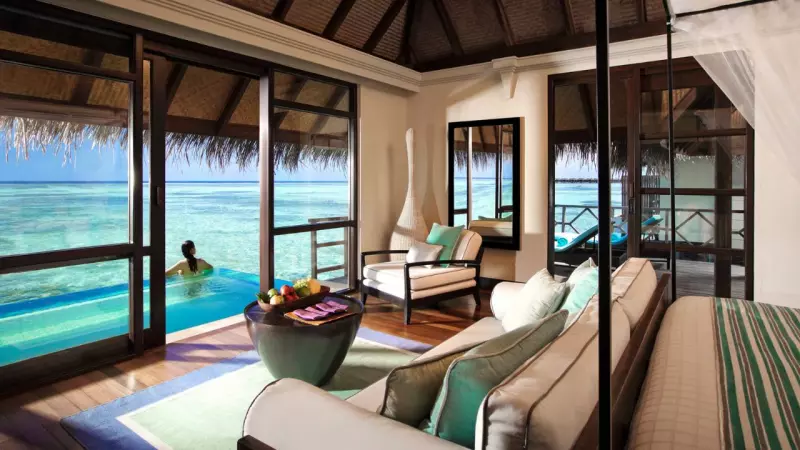 Sunrise Family Water Villa with Pool
(2 Rooms – Size: 91m2 (980 sq.ft.))
Maximum 3 Adults And 1 Child ( Below 12 Yrs Old ) Or 2 Adults And 2 Children ( Below 12 Yes Old )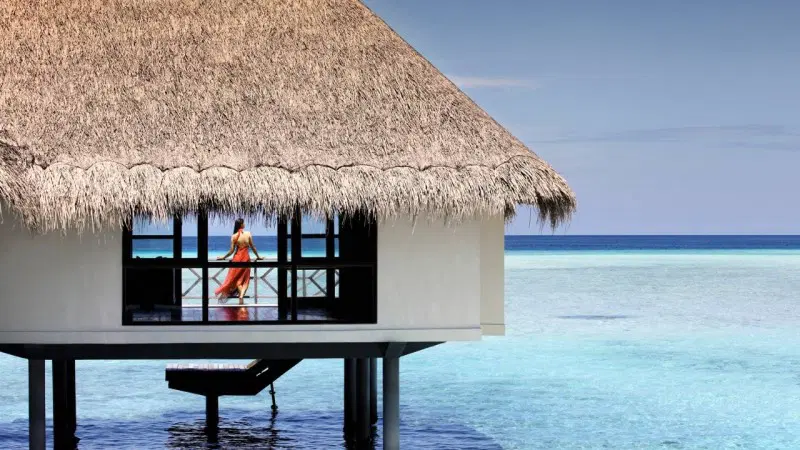 Sunset Family Beach Bungalow with Pool
(Size: 75m2 (807 sq.ft.))
Maximum 3 Adults And 1 Child ( Below 12 Yrs Old ) Or 2 Adults And 3 Children ( Below 12 Yes Old )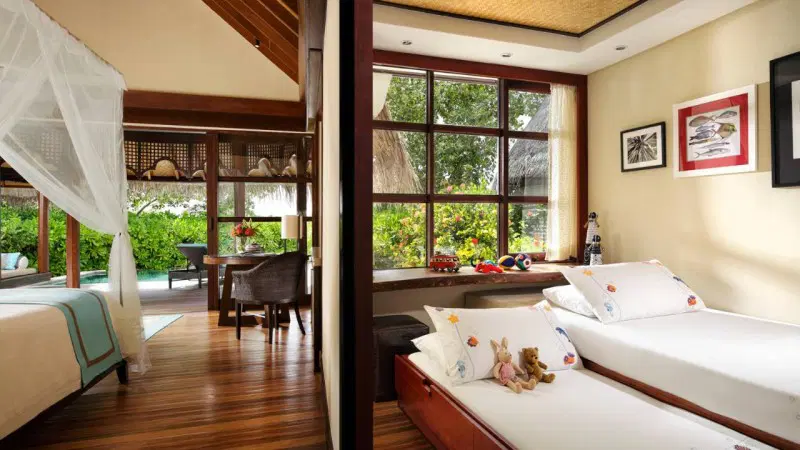 Sunrise Family Beach Bungalow with Pool
(4 Rooms – Size: 75m2 (807 sq.ft.))
Maximum 3 Adults And 1 Child ( Below 12 Yrs Old ) Or 2 Adults And 3 Children ( Below 12 Yes Old )
Just steps from the beach, the Family Beach Bungalow has an adjoining study room with a sofa bed with pull-out underbed, desk, wardrobe and TV. With direct access to the dressing area and bathroom, they are ideal for families with younger children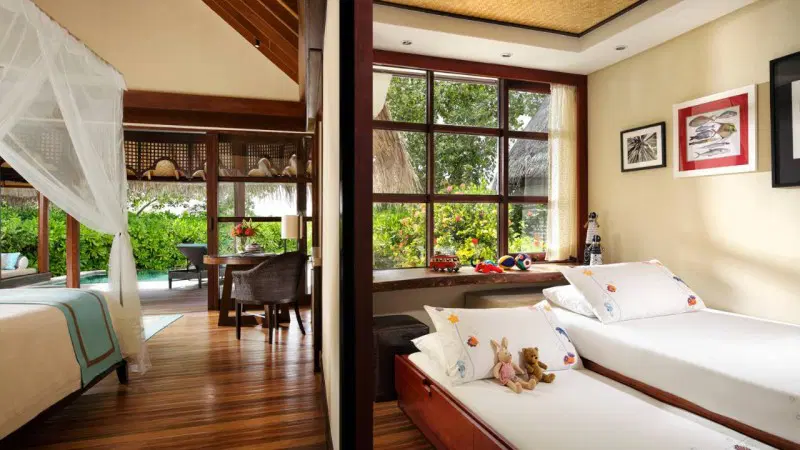 Sunrise Two-Bedroom Water Suite
(Size: 165m2 (1776 sq.ft.))
Maximum 4 adults, or 4 adults and 2 children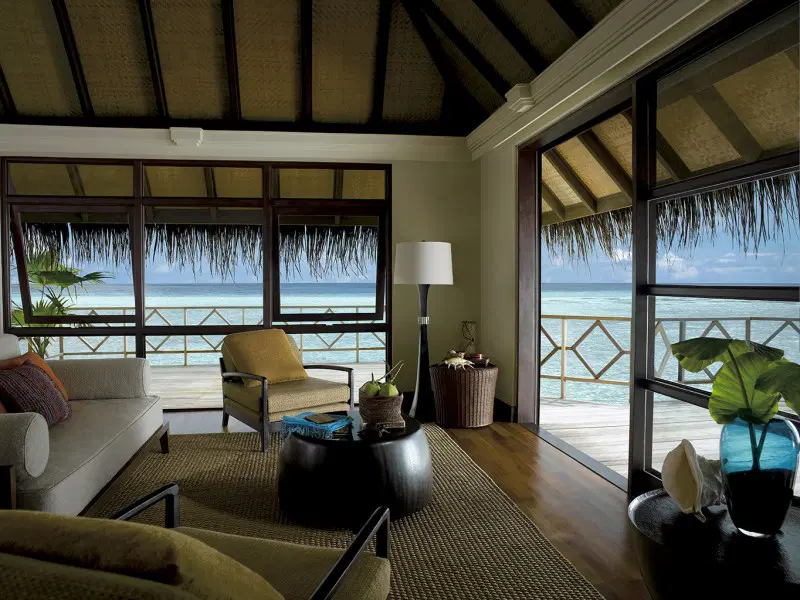 Sunset Two-Bedroom Water Suite
(Size: 165m2 (1776 sq.ft.))
Maximum 4 adults, or 4 adults and 2 children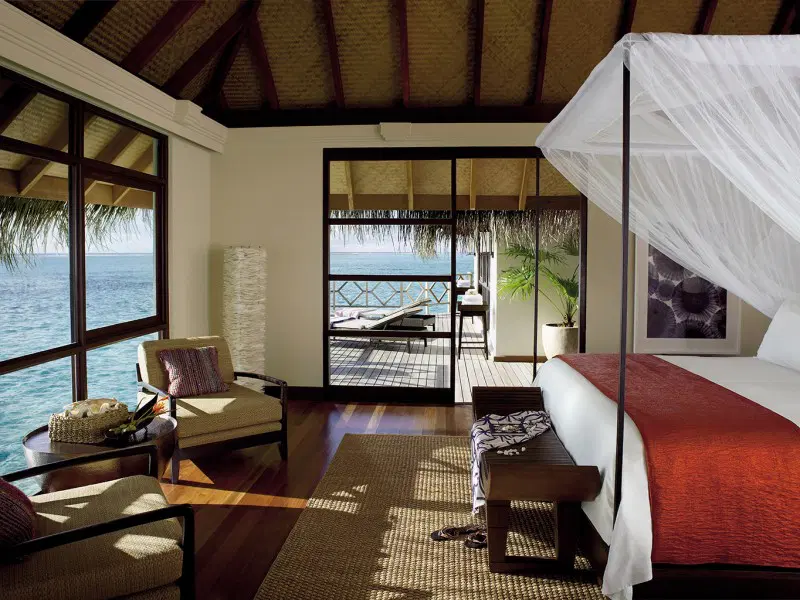 Two-Bedroom Royal Beach Villa
(Size: 197 M2 (2120 SQ.FT.))
Maximum 4 adults, or 4 adults and 2 children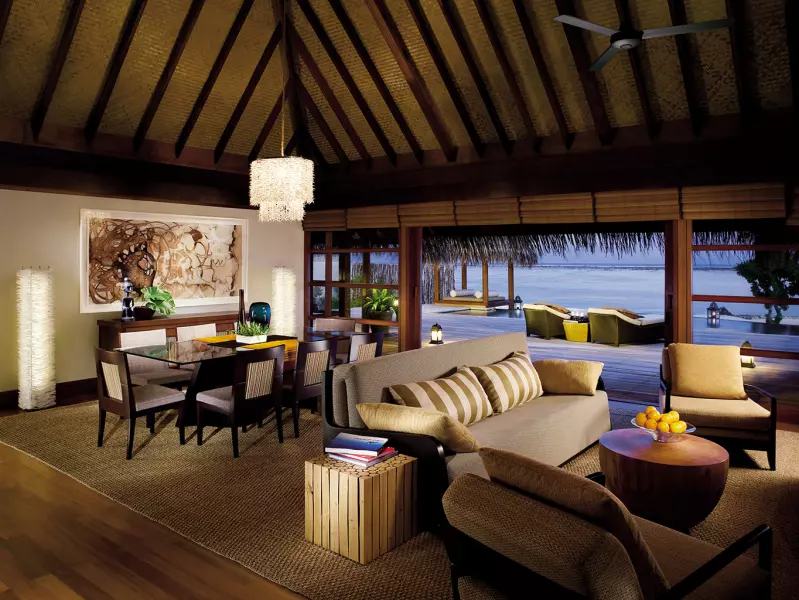 Sunrise/Sunset Two-Bedroom Water Suite
Number of rooms: 3
Room size: 364 square meters (internal 165 square meters, external 199 square meters)
Pool or not: Yes
Maximum occupancy: 4 adult or 4 adult +2 child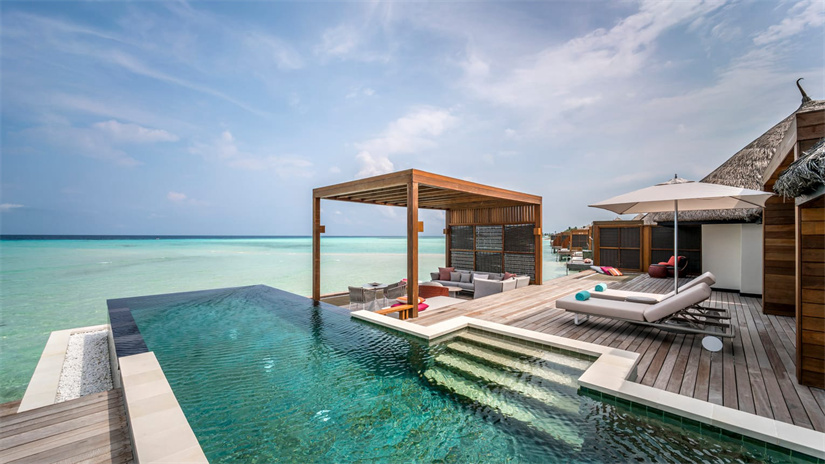 Sunrise Family Water Villa With Pool
Number of rooms: 1
Room size: 146 square meters (91 square meters inside, 55 square meters outside)
Pool or not: Yes
Maximum occupancy: 3 adult+1 child or 2 adult+2 child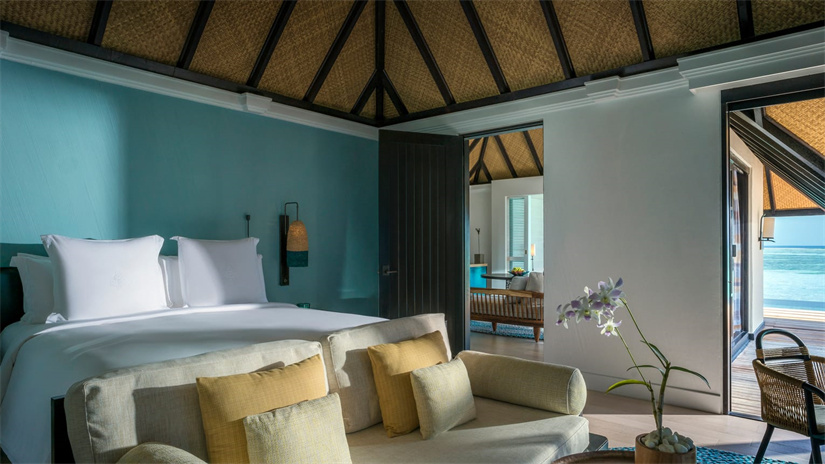 Sunrise/Sunset Three-Bedroom Water Suite
Number of rooms: 2
Room size: 518 square meters (240 square meters inside, 278 square meters outside)
Pool or not: Yes
Maximum occupancy: 6 adult or 6 adult +2 child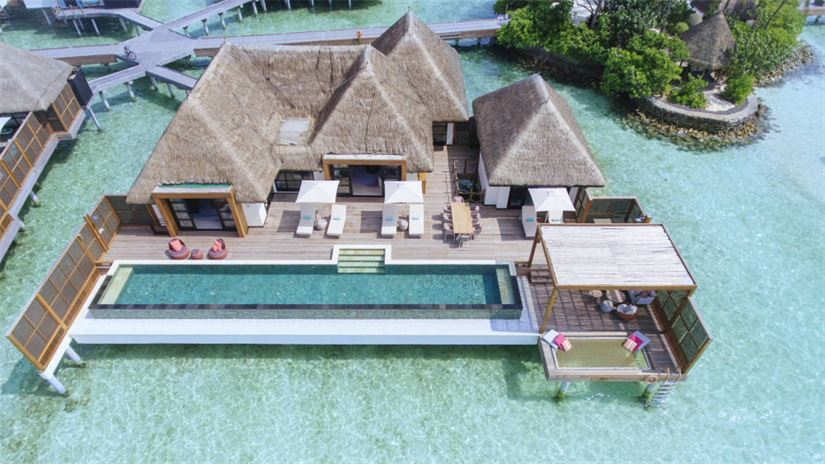 Deluxe Beach Pavilions With Pool
Number of rooms: 5
Room size: 109 square meters (55 square meters inside, 54 square meters outside)
Pool or not: Yes
Maximum occupancy: 3 adult or 2 adult +1 child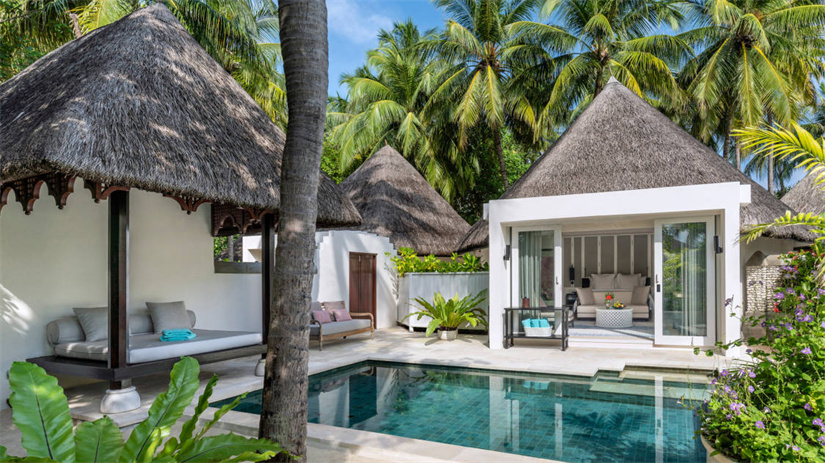 Two-bedroom Beach Pavilion With Pool
Number of rooms: 1
Room area: 132 square meters (78 square meters inside, 54 square meters outside)
Pool or not: Yes
Maximum occupancy: 4 adult or 2 adult +2 child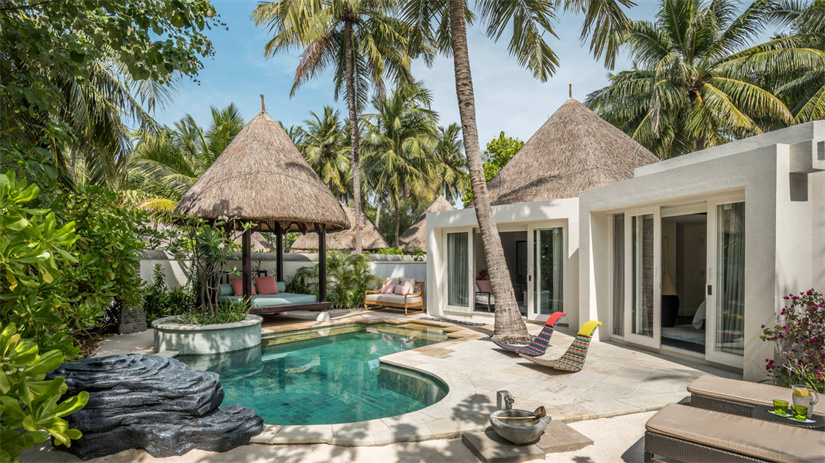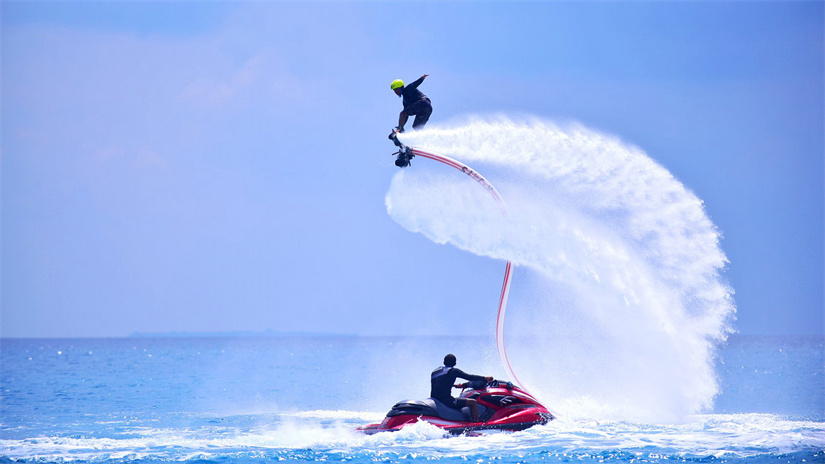 The Resort offers a wide variety of short, half-day and full-day guided excursions, as well as engaging activities such as cooking classes and marine talks.
Diving
Maldives is known internationally as one of the world's best dive destinations. A large number of excellent dive sites are located within minutes of the Resort. The Resort operates its own 5-star PADI Green Star & IDC Dive Centre with air and nitrox diving. A multi-lingual team offers courses for all abilities (including 'Bubble maker'courses for children) and daily dive trips. The Resort is within five to 30 minutes of 30 excellent dive sites, accessed via a traditional (customised) dhoni. Highlights include the renowned manta ray cleaning station at Sunlight Point (sightings from May to November) and the exciting 110-metre long cargo freighter wreck, just 45 minutes away.
Surfing
The Maldives is fast becoming renowned as one of the world's most perfect surfing destinations: with year-round water temperatures of 27 – 30º, manicured, world-class waves, pristine turquoise waters and panoramic ocean views at every turn. Guests can adopt an entire ocean lifestyle at the Resort's Surf School, with courses from six years old and above. Run by the pros from Tropicsurf, Noosa, Australia, the school caters for all abilities: learn to master the board in the pristine lagoon, embark on a series of surf clinics or let loose on six quality breaks within a stone's throw – with many more secret, uncrowded spots just a whisper away… Enjoy easy take-offs and long rides in some of the world's most consistent – and warmest – swells, with expert instructors on hand to help maximise every wave.
Water Sport Centre
The Water Sport Centre offers a wide range of group and individual activities. Non-motorized activities are complimentary and include kayaking, snorkelling, windsurfing, and catamaran sailing. Lessons in windsurfing and sailing can be given by VDWS certified instructors on request. Additional motorized activities such as water-skiing, parasailing, banana-boating, jet skiing, sea bobbing and fun tube are available at a charge.
Marine Discovery Centre
Kuda Huraa's Marine Discovery Centre (MDC) is an interactive research and education centre that introduces guests and local school children alike to the role we can each play in conserving the local and global marine ecosystem. The Centre features audio-visual presentations on specific areas of conservation close to the Kuda Huraa team's heart, including turtles, coral reefs, sharks and dolphins.
The MDC is the starting point for the Resort's Turtle and Shark Safari, Dolphin Watching and Coral Reefscaping activities. It is also the headquarters of the Maldivian Sea Turtle Conservation Programme. The centre also has a dedicated children's section featuring an exciting submarine concept.
The Gym
The gym is located on the main floor under the Business Center. It is equipped with state-of-the-art cardiovascular equipment including treadmills, exercise bikes, rowing and step machines, each with a personal TV and headphones. There are also separate changing rooms for men and women with shower facilities and toiletries.
Swimming Pools
The Resort's fresh water infinity pool has been designed in harmony with its tropical setting. A shallow wading pool stretches into a free-form pool that extends right to the edge of the lagoon. There is also a separate children's pool.
The Reef Club Restaurant features the resort's adult-only serenity pool, opened daily from 10am to 10pm, where guests can enjoy island cocktail and lunch options till 4 pm.
Recreation Centre
The Recreation Centre offers a wide selection of engaging family activities and excursions including marine lectures, windsurfing, waterskiing (skis for 6 years and above), dolphin cruises, sunset fishing, guided reef snorkelling, shark snorkel safaris, island excursions, sandbank picnics, private boat tips. kayaking, tennis, table tennis.
Kuda Mas Kids Club
As part of the Kids for All Seasons programme, the Kuda Mas Kids Club gives young guests from 4 to 12 years of age the opportunity to learn more about the Maldivian island way of life through a wide range of indoor and outdoor activities, creative crafts and games. Children can take part in their own dedicated yoga sessions, or join in a range of creative activities from cooking classes to making and flying kites. Open from 9:00 am to 5:00 pm daily.
Lava Lounge
Above the Gym, the bright and spacious air-conditioned library features a great selection of books in many languages available on loan, as well as a selection of international magazines and newspapers. Lava Lounge is equipped with board games and iMac computer terminals with complimentary Internet access.
Big game fishing
Reel in a big tuna, sailfish or mahi mahi from the 16.7-metre (55-foot) High Flyer, a sport fishing boat specially designed for big game fishing on the high seas. Unmatched by any other boat in the area, the luxuriously furnished High Flyer features an 81-centimetre (32-inch) flat-screen television, surround-sound MP3 music system and other advanced amenities. Set lunches are served on board. Guests may choose a full-day (8-hour), or half-day (four-hour) charter package.
Island-hopping
The Maldives' 1,190 islands feature countless sandbanks and reef tops where you can enjoy unlimited land or sea activities – snorkel at isolated reefs, visit traditional Maldivian villages or relax in private on a deserted sandbank. Our 16.7-metre (55-foot) luxury sports cruiser, Landaa Summer, allows you to island-hop in comfort. Its easy sea access makes for effortless snorkelling or swimming from the back of the boat, while the air-conditioned salon with flat-screen television provides comfortable relaxation in the heat of the day. Set lunches are served on board.
Seaplane photo flight
From 457 metres (1,500 feet) in the air, you will have a whole new perspective on the Maldives. Savour the views of miles and miles of islands, lagoons and calm azure waters during this 20-minute flight, and take advantage of limitless photo opportunities. Seaplanes may be chartered privately.
Island picnics
A private cruiser takes you across the atoll for a picnic on a small island or a sliver of sand, lost in an azure sea – the perfect setting for a romantic celebration or a family day out. Snorkel amongst brilliantly coloured corals, go fishing or simply relax in the shade of your tent.
Jogging
A leisurely jog around the island at dawn or dusk is one of the best ways to view Kuda Huraa's amazing vistas, where the sea meets the sky. Jogging maps are available.
Clinic
The Resort's in-house doctor is also a specialist in dive medicine and is on-call 24 hours.
Services
Comfy sofa, plasma TV, books, magazines, Kids Club, Library, Internet Facilities, Hotel Safe, Laundry, Island Spa, concierge services, In-Room Dining, Airport boat transfers, CD/DVD library, Doctor/nurse, Gift shop, International newspapers, overnight pressing, Restaurants and lounges, Salon services, shoeshine
Facilities
SCUBA Diving – PADI certified, kayaking, Snorkelling, windsurfing, single sail, catamaran sailing, water-skiing, parasailing, banana-boating, GYM, infinity pool, nature walks, marine lectures, fishing, island excursions, cooking classes, fun tube, table tennis, board games, darts, carom, Big game fishing, Sunset fishing, Sandbank picnic, Jogging